Painter YORKE.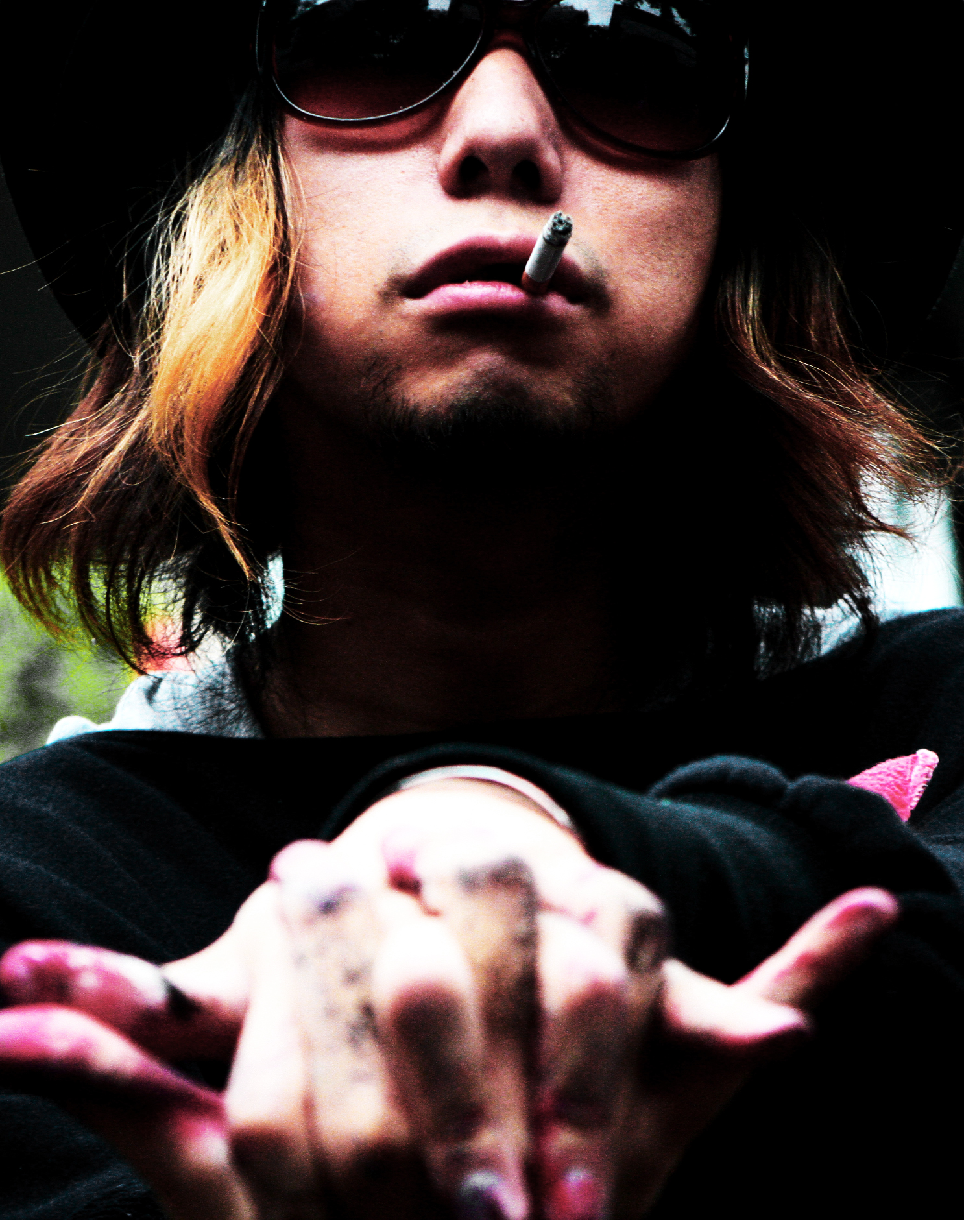 An Artist.
He self-educated his two-dimentional paintings and his three-dimentional craftwork from early childhood.Later on, he adopted himself into Tokyo's club culture and he developed an unique style in the live painting area, where he staged himself in various shows within and out of Japan.
He also provides his artwork in other fields such as apparel, movie advertising, and the popular music industry includingthe album jacket art-work of B'z (a platinum Japanese Pop/Rock group).
In 2004, he held his first one-man exhibition at "nou Laboratory" in Yoyogiuehara, Tokyo where most of his work were sold out.
In 2005, he experienced many sessions with local musicians in USA. All he did was paint throughout his stay.
In 2006, he released his first DVD "Puzzle City" which features his live paintings in a Tokyo, a city he depicted as to be a "puzzle".
In 2007, he participated in "KAVKI BOIZ" (a visual-kei rock band featuring "miyavi" as the leader) as a live painter / stage performer and joined the tour which opened in Los Angeles (California, USA), and followed by a National tour (Japan) and the Seoul Performance (South Korea).
From 2008, he is serving the roll of a presenter with DJ Hanger on an Internet TV Show "BAKUHATSU!!MAN".
Also, he holds workshops and special classrooms for children at various Elementary schools and Kindergartens where he positively faces the children with various themes.He also shows himself in magazine advertisements, movies, and promotion videos for having a unique and creative character.
For further information, please visit YORKE.'s official website.
幼少の頃より独学で絵を描き始め、立体作品などを創り始める。その後、東京のクラブシーンから、独特のスタイルを切り開きライブペインティングで国内外問わず数々のステージに立つ。
また、B'zのCDジャケットのアートワークをはじめ、映画広告、アパレル等で作品を提供することも多い。2004年に代々木上原「nou Laboratory」で初個展。作品のほとんどが完売となる。2005年に渡米し、現地のミュージシャンとセッションを重ね、絵を描き続け帰国。
2006年、東京をパズルに例えてYORKE.のライブペインティングをまとめた初の映像作品1st DVD「PUZZLE CITY」をリリース。2007年には、ヴィジュアル系ロックシンガー「雅-miyavi-」のバンドメンバー「KAVKI BOIZ」の一員として、ステージ上でライブペインター&パフォーマーとしてロサンゼルス公演をスタートに、全国ツアー・韓国公演に出演。
2008年よりa-head Records presentsのインターネットTV「BAKUHATSU!!MAN」でDJ HANGERと共にプレゼンターを務めるなど、その活動は多岐に渡る。また、子どもへ向けた特別授業やワークショップも定期的に開催。様々な小学校から、保育園などで毎回色々なテーマで子ども達へも積極的に向き合っている。更に、その独創的でクリエイティブな生き方を取り上げられることも多く、雑誌広告のモデルや映画出演、プロモーションビデオへの出演などでも活躍中。